Academy Staff
Tony Faticoni,
Camp Director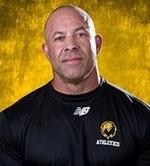 Tony Faticoni enters his fifth year at Pfeiffer University and third as the head coach of the Falcon men's soccer program.

Faticoni has been involved with soccer as a player and a coach for over 40 years. His experience includes coaching at the Division I level as a assistant coach at Rutgers University, in helping the Scarlet Knights to the 1994 NCAA Final Four and the Division III level as head coach at Centenary College where guided the Cyclones to the 1995 National Small College National Championship.

He also has experience at the Division II level, as he was an assistant coach with the Falcons on their run to winning the 2015 NCAA Division II National Championship.

Having been exposed to all divisions in collegiate soccer and being blessed with success, Faticoni has a unique insight as a coach.

He has worked with and improved numerous players with varying levels of skill, experience and long-term goals.
As a student-athlete, Faticoni played for two different top Division I programs and experienced playing in two NCAA Championships.

He earned All-American in high school, was named Gatorade Player of the Year for Virginia and was in the National Pool from 1986-1989, winning the silver medal in the US Olympic Festival in 1989 representing the East.

Throughout his career, he had the pleasure of being coached and coaching alongside some of the best coaches in the game, including former Falcon Head Coach Bob Reasso. Others include Lew Meehl, Bob Bradley, Maney Shellsheidt, Dieter Fricken, Tim Mulqueen, Nelson Rodriguez, and Peter Vermes. Through these different men, he advanced his knowledge about the game, coaching strategies, player development, and leadership.
As the head coach at Pfeiffer University, he is very excited to take this team to the top of the Division III and become an NCAA top 20 team.

Faticoni has several philosophies as a coach and always looks for three things in our players: Talent-Hard Work-Attitude.

Faticoni states, "The great thing is two out of the three attributes, everyone can have". In terms of playing style and systems, Faticoni believes those are developed, based off the players you have, as opposed to forcing players into a system or style.
Faticoni holds a USSF B/C license, NSCAA National Diploma, and the NSCAA Goalkeeping 3 Diploma.

He resides in nearby Midland, N.C. with his wife Krystal and two children, Taylor and Trey.