Academy Staff
Tony Faticoni,
Camp Director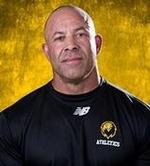 Tony Faticoni has just finished his 2nd successful season as assistant Men's soccer coach at Pfeiffer University. Cumulative record over the last 2 seasons is 44-3 as well as a record breaking 25-0 and the 2015 DII National championship. And as of February 1st of this year he is now the official Head Coach for the Pfeiffer Men's soccer program.
Prior to coming to Pfeiffer, coach Faticoni was a former assistant for Bob Reasso at Rutgers University in 1994. That year Rutgers lost in the National Semifinal to University of Virginia which went on to win the National title. The following year Tony took the head coaching position at Centenary College in NJ where they posted a 17-3-1 record and won a NSCAA National Title. To this day that is the most wins Centenary College has ever posted in a single season. After Centenary Coach Faticoni continued to coach club soccer but eventually was drawn into the Health and Fitness world where he managed several health clubs in New Jersey.
As a player Tony was a high school All-American, Gatorade player of the year for Virginia, and had the pleasure of playing for two different top D1 teams in college. At Philadelphia Textile Tony was the starting goalkeeper as a freshman and led his team to back to back sweet 16 appearances in the NCAA tournament.
Tony Faticoni received his degree in Exercise Science from Rutgers University in 1994 and also holds his B coaching License with the USSF.
Bob Reasso,
Consultant/Director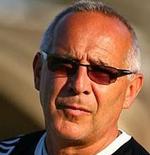 Bob Reasso helped lead the Falcons in the 2015 season to a 25-0 record and the Division II National Title. Reasso was also named Division II National Coach of the Year.
Bob Reasso '73 was named the Athletic Director/VP for Athletics and Head Men's soccer coach in April 2013. Reasso returns to Pfeiffer from Husson University in Bangor, Me. where he served as the Athletic Director from 2010-2013. Pfeiffer honored Reasso as a distinguished alumnus in 1993, and he was elected to the Pfeiffer Sports Hall of Fame in 1995.
Prior to his years as the Athletic Director, Reasso served as the Head Men's Soccer Coach at Rutgers for 29 years, where he amassed a career record of 351-183-71. With 365 career coaching victories and a winning percentage approaching 70 percent, Reasso ranks among the top 10 in wins among active coaches. Reasso posted a winning record at Rutgers in each of his first 23 seasons, and took his program to the NCAA Tournament 13 times. In 1990, Reasso led the Scarlet Knights to the NCAA Championship game before falling to UCLA in penalty kicks. That season, Reasso was named the National Coach of the Year.
Prior to the start of the 2009 season, Reasso was inducted to the Soccer Coaches of New Jersey Hall of Fame. In his nearly three decade stint at Rutgers, he advanced to three Final Fours, six league championships, won 10 or more matches in 21 seasons, reached the 15-win mark on seven occasions and reached 20 wins twice. He coached 19 All-Americans and had 50 players that moved on to play professionally, including Alexi Lalas and Peter Vermes. Reasso has been the Atlantic 10 Coach of the Year three times, the Mid-Atlantic Coach of the Year four times and was once named New Jersey Coach of the Year. In 2005, Reasso was honored as a "Loyal Son of Rutgers" – a distinction given to the most cherished individuals involved with the University. Reasso became just the sixth Scarlet Knights head coach who graduated from a university other than Rutgers to receive this distinction.
Reasso also had a standout career as a member of the Falcons soccer team. He was named an All-Conference and All-District player on top of earning the team's most valuable player award as a senior.
Upon the completion of his playing career, Reasso began his coaching career as a graduate assistant at Springfield College in Springfield, Massachusetts, where he earned his Master's Degree in Education in 1975. His first head coaching job was at Nasson College in Maine, where he coached both the baseball and soccer teams, while serving as the Assistant Director of Athletics.
Reasso has also served as the Coach of the New Jersey Special Olympic Team in the World Games, General Manager of an A-League professional team, and was Publicity Director of the National Soccer Coaches Association of America.
As the Athletic Director at Husson, Reasso launched Academic enhancements and initiatives in the creation of STATS: Study Tables and Academic Training Services, increasing the number of student-athletes with cumulative GPAs over 3.4 from 43 to 73 in just two years. He also added women's outdoor and indoor track and men's cross country teams and raised the number of student athletes from 312 to 450 in a two-year span. Reasso established the universities first ever comprehensive athletic department apparel agreement, with New Balance, and added women's outdoor and indoor track and men's cross country programs. On top of that, Reasso assisted with the establishment of the Eagles Club, the first ever athletic fundraising organization.
Bob and his wife, Michelle, reside in Misenheimer and have two children, Danielle and Bobby. Bobby is a sophomore and is a member of Pfeiffer's soccer team.